Living in Community
But let us do ever so little for God, we will be sure he will never forget us.

Blessed Edmund Rice
Most Brothers live in small communities, typically of two to ten men. They hold their possessions in common and collegially talk through issues to reach consensus on all major community decisions. The rhythms of life at each community are as unique as the men themselves.
These communities are the principal source of our companionship and a privileged environment for personal growth. This simple lifestyle fosters spiritual freedom and a deep sense of community.
How Things Work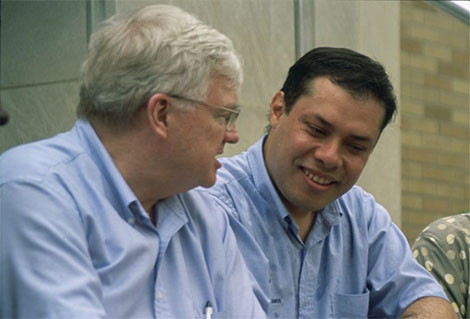 As members of a community vowing poverty we find fulfillment of our material needs in a simple style of life. We contribute all our earnings to the common fund. In many communities Brothers take responsibility for the ordinary tasks of living in a community and we share the responsibilities of good stewardship.
We strongly believe in the importance of personal, communal and liturgical prayer. Time and space is set aside in our daily schedule to allow for this. Brothers are also encouraged to take time each year for an annual retreat.
We recognize that daily living is where the challenge of community life manifests itself. We grow as persons as we come to accept the difficult task of living for others and as we become aware of our gifts and limitations in our human interactions. We realize that interactions with each other are an important element of our growth as people.
As a Gospel community we welcome Christ who comes to us in all whom we encounter. We therefore regard hospitality as an essential element of our community living.
Prayer and Real Community
In most communities, Brothers meet briefly for morning prayer, then go about their daily business. At the end of the day, the Brothers gather again for evening prayer followed by some social time and a meal in common. This provides an opportunity for the members of the community to share the experiences of the day and to reflect on them.
Living in community, just as living healthily with family or roommates, calls for a generosity of spirit, a good sense of humor, and a real ability to relate to people, not only in groups but also one-on-one.
But the rewards are tremendous. The collective experience, and wisdom, in communities can be immense. If something is going wrong for a Brother, he can turn to the others in his community to talk things over. What's more, seeing people grow and their relationships with God deepen from year to year, and decade to decade, is a profound experience.
Hospitality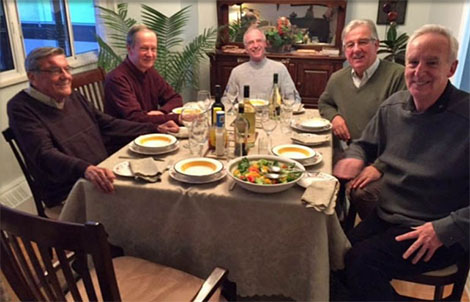 Hospitality is at the heart of every Christian Brothers' community. The Brothers look forward to the opportunity to show our life to others, sharing prayer or a meal. A man interested in discerning his call to the Brothers can arrange to spend time at a community.
Experience a day in the life of a Christian Brother
If you would like to experience for yourself what life as a Brother is like, we'd be pleased to arrange for you to visit. You could spend a day or so alongside a Brother as he performs his ministries and partake in community. We feel that getting a taste of what we call the Congregation's "spirit" is the best way to help you discern if your call is to the Christian Brothers.